Stop crying Master Wolf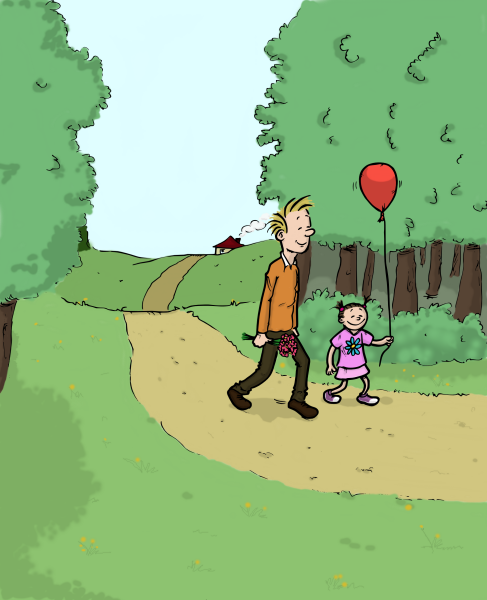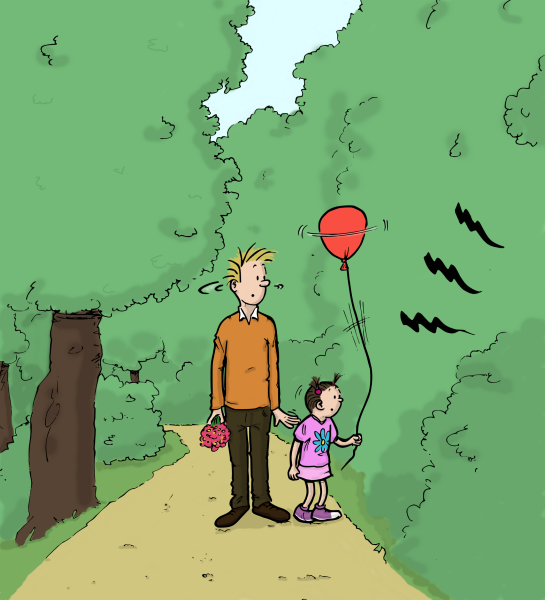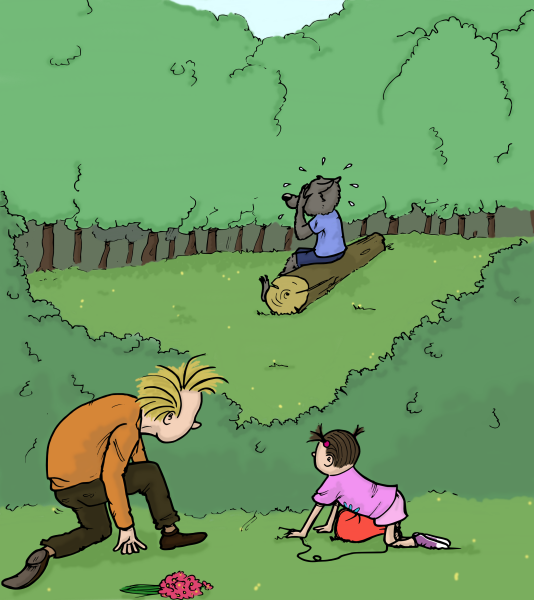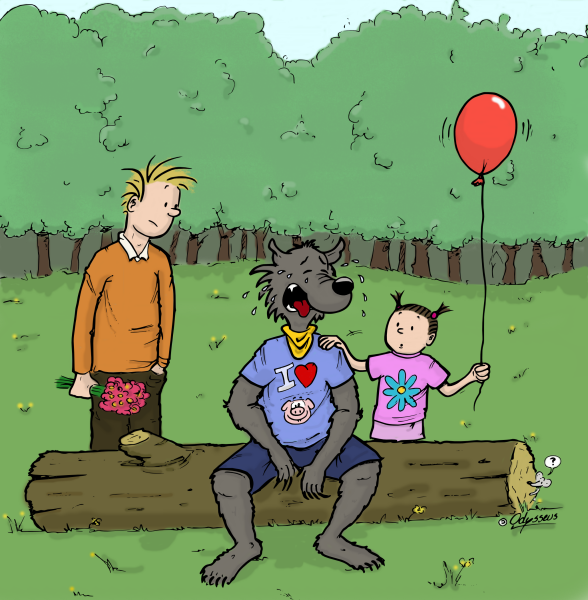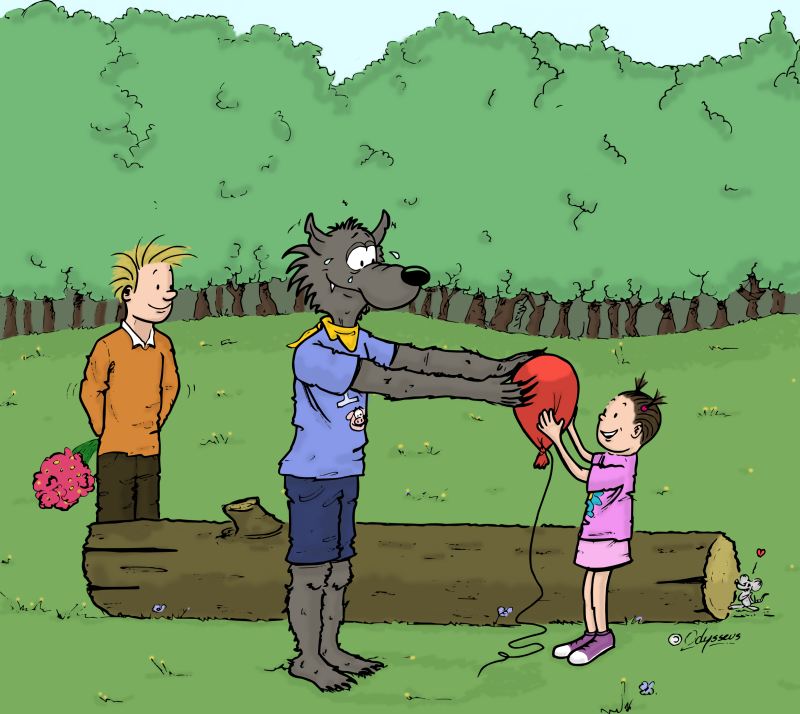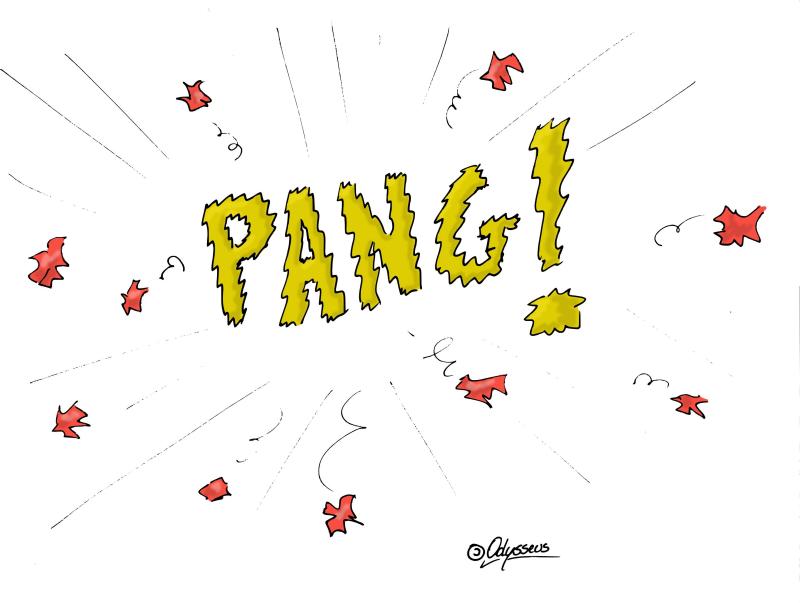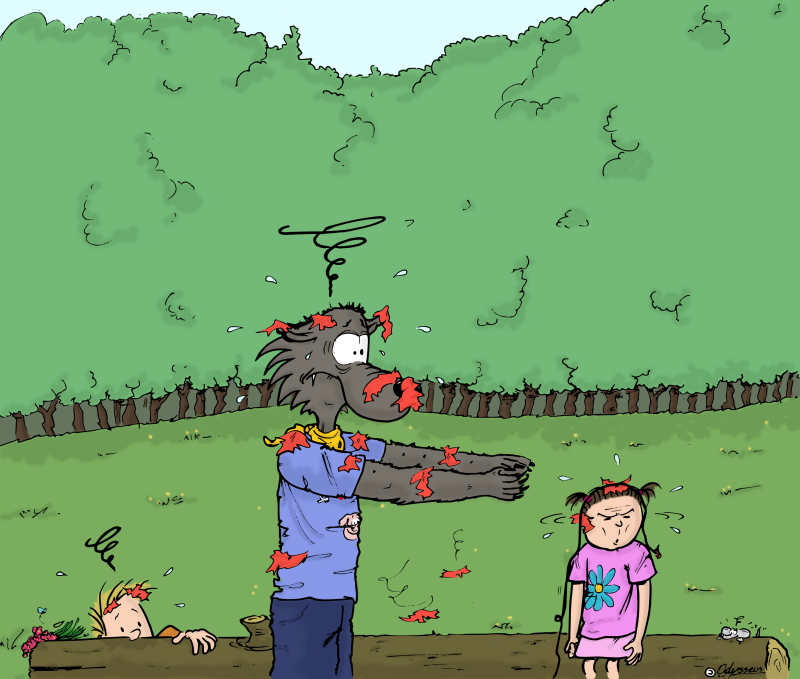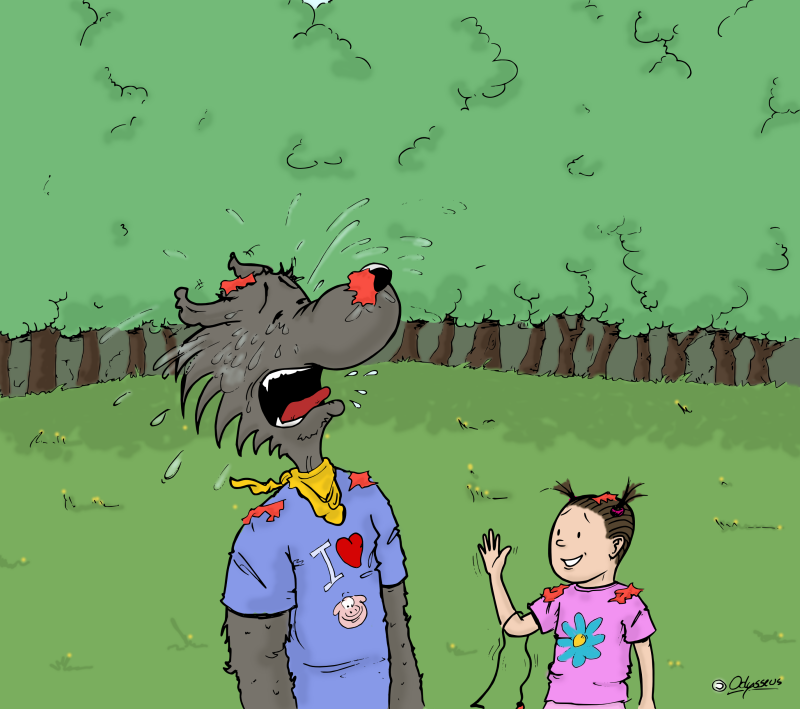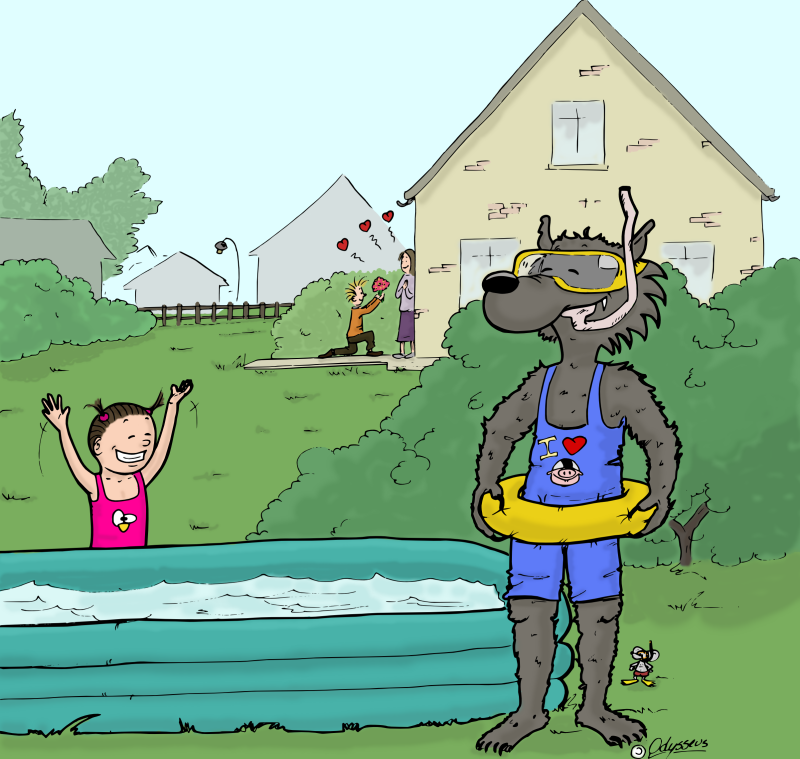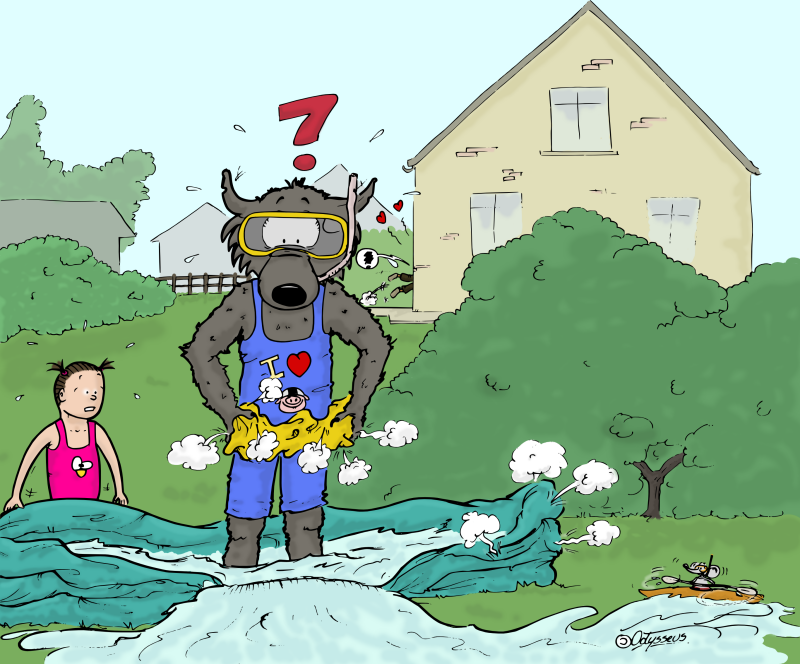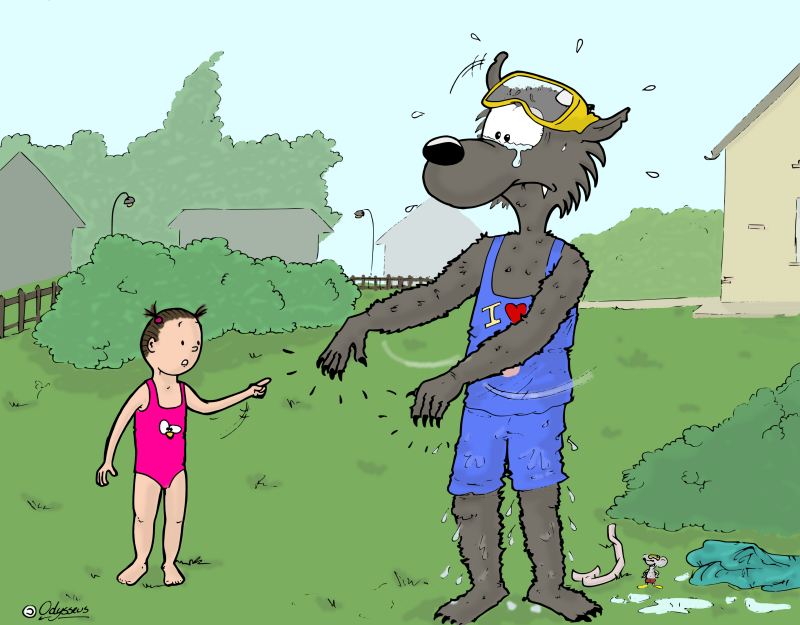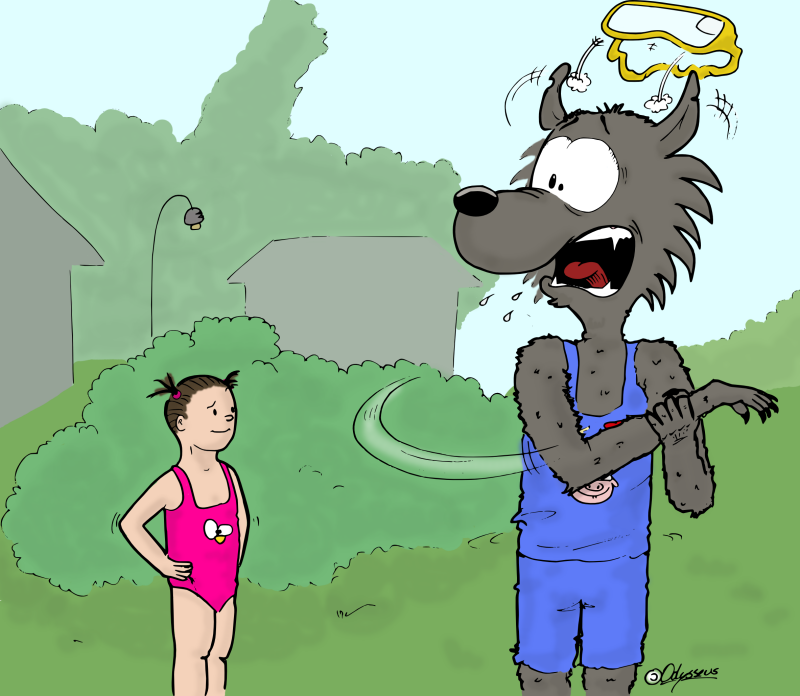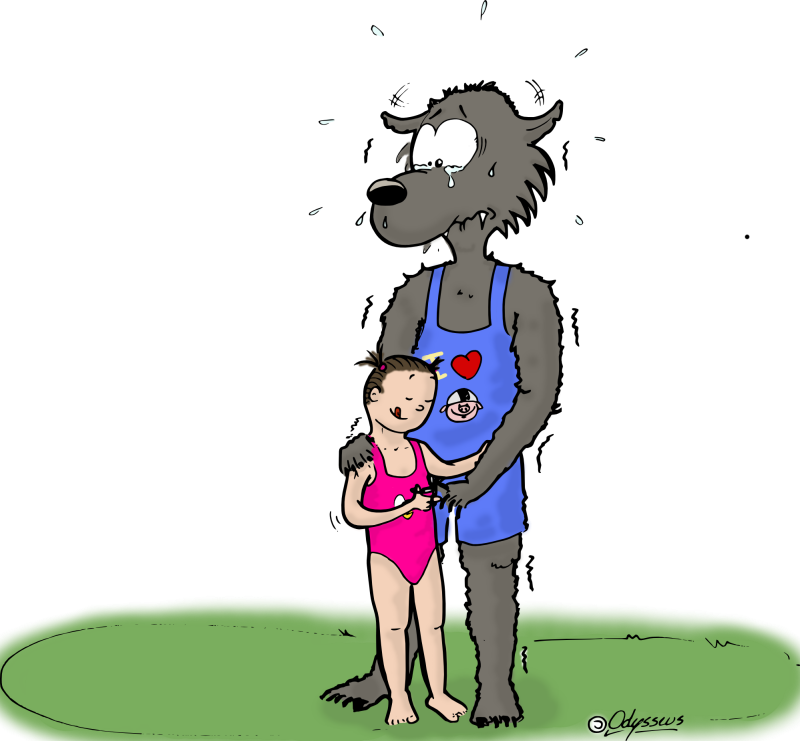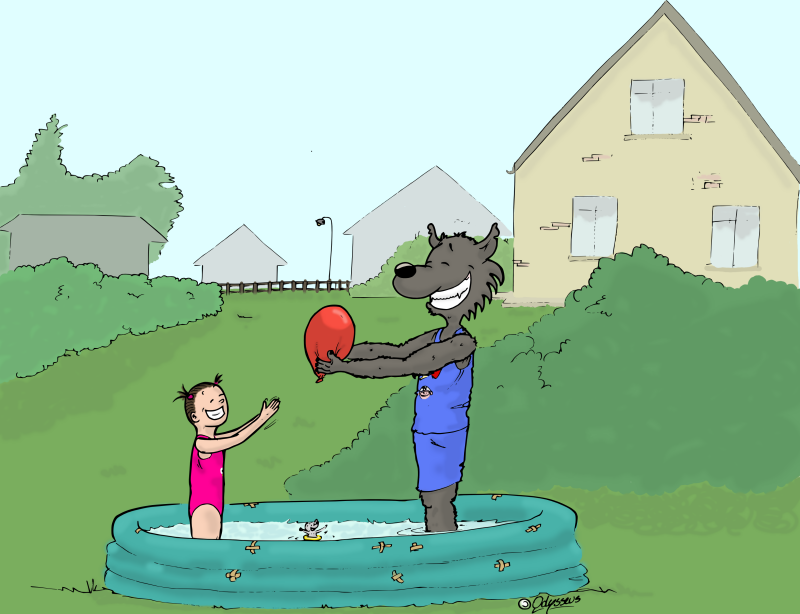 Today, Perrine and her dad had been invited by grandma for her famous cookies. On their way back home, they went for a walk through the woods. Dad picked up a bunch of pink flowers for mum ; she'd appreciate, wouldn't she ? Perrine had been walking next to him, so proud to hold the rope of her beautiful red balloon.
All of a sudden, they heard somebody crying behind the bushes not far from their path. Who might it be, did Perrine ask ; No idea, did Dad answer, how about going and finding out ?
Somebody WAS crying, sitting on an old log in the middle of an open space. That's Master Wolf, did Perrine notice. Why does he cry so much ? Let's go and ask, did Dad answer.
Come on Master Wolf ! What's going on ? did Perrine ask. Boooh ! I'm so lonely, nobody will be my friend. Yet I had decided to be nice with everybody, to try harder and harder, and still, they're all afraid of me. It doesn't work. Moreover I'm so clumsy that I manage to break whatever I take with my hands. I'm so sad. Boooh...
I DO wish to be your friend, Perrine told him. You know, I really don't fear you. Here is my balloon, what about playing together ? Come, stop crying and dry your face Master Wolf. D'you feel better ? Snif, thank you, would answer Master Wolf, taking her red balloon precautiously.
When, all of a sudden, PANG !
Booh, see, I did tell you so, I do break whatever I pick up ; I'm going to remain lonely, without any friend...
Come on, Master Wolf, it doesn't matter, it's nothing but a ball. What about coming home ? I've got a great swimming-pool in my garden. You're invited to spend there the whole afternoon if you wish so. How do you feel about that ?
Of course, instantly, Master Wolf got dry eyes and shyly agreed with Perrine's suggestion. Later on, he met Perrine in her garden. He had put on a superb blue swimming-suit and brought along his buoy, his snorkel and his diving-mask. He was ready to spend a perfect afternoon in Perrine's swimming pool. Great, for once, Master Wolf was satisfied !
But barely had he started putting one foot in the swimming pool that it instantly let the air out and let all the water pouring away, with Perrine and Master Wolf so surprised at such a sight ! What a disaster ! What had happened  ?
Master Wolf, did Perrine cry out, look at your claws, they're much too long ; here is the reason why you break whatever you hold in your hands. Earlier my ball, now my swimming-pool, it's due to your nails, they are too long and too pointed ; they must be cut short.
My claws ? cut short ? Never ! I'd be scared to death ! It's much too painful ! Come on Master Wolf, I figured out you were a brave boy ! It's not that painful. Mum would cut mine short every week with no whining at all. If you wish me to cut yours, I'd be glad to do so ; as a result you won't break anything for ever.
At last, after a very long moment of hesitation Master Wolf reluctantly ended up saying yes. While Perrine was cutting his claws with her scissors, he didn't feel confident at all but tried not to show his feelings and managed to remain silent. See, Master Wolf ? That wasn't so awful, was it ? Well indeed, with those shorter claws, he would no longer blow out a ball.
During that time Dad had the swimming-pool fixed and inflated so that Master Wolf and Perrine could play together in the water as long as they wished. Master Wolf had found a new friend. Other ones would follow soon without any doubt ! (story and illustrations Odysseus, translation als)
Stop_crying_Master_Wolf_

Ce diaporama a été produit à l'aide du logiciel Raconte-Moi d'AbulÉdu et utilise le travail de Atul Varma (sous licence cc-by) pour la partie web.
Une réponse à "Stop crying Master Wolf"